Gallant Fox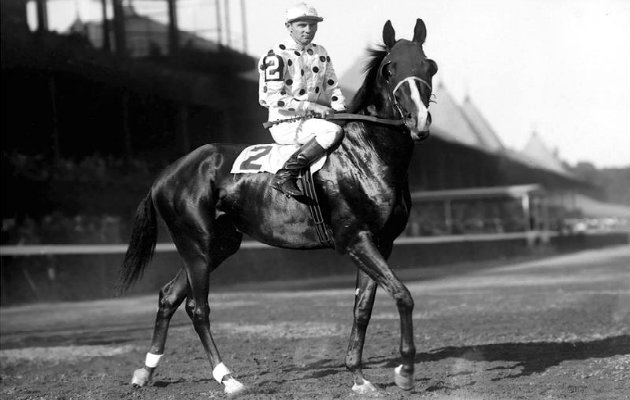 ---
Cavallo da corsa di razza purosangue inglese, campione negli USA nato il 23 marzo 1927 e deceduto il 13 novembre 1954.
Generato da Sir Gallahad III e Marguerite. Allevato dal suo proprietario a Belair Stud, Gallant Fox fu allenato da Sunny Jim Fitzsimmons e montato nelle sue più importanti vittorie dal fantino Earl Sande.
In una carriera agonistica che durò dal 1929 al 1930, Gallant Fox vinse 11 corse su 17, comprese le tre tappe valide per la Triple Crown, diventando così il 2° vincitore della storia 11 anni dopo Sir Barton. Nel 1929 dopo i successi nella Flash Stakes e la Cowdin Stakes, si piazzò 3° nella Belmont Futurity Stakes. Nel 1930 vinse la Wood Memorial Stakes (4 lunghezze) davanti Crack Brigade, il Jockey Club Gold Cup, la Dwyer Stakes, l'Arlington Classic, la Lawrence Realization Stakes e la Saratoga Cup.
Gallant Fox chiuse la carriera agonistica con 11 vittorie, 3 secondi posti e 2 terzi posti su 17 partenze con un guadagno complessivo di $ 328,165. Fu eletto al National Museum of Racing and Hall of Fame nel 1957.
Tra i suoi discendenti spiccano Omaha,  3°vincitore della Triple Crown 1935, Granville Horse of the Year 1936 e Flares che nel 1938 diventò il 2° americano di razza ad aver vinto l'Ascot Gold Cup in Inghilterra.
Vittorie importanti
Flash Stakes (1929)
Cowdin Stakes (1929)
Wood Memorial Stakes (1930)
Jockey Club Gold Cup (1930)
Dwyer Stakes (1930)
Arlington Classic (1930)
Lawrence Realization Stakes (1930)
Saratoga Cup (1930)
Kentucky Derby (1930)
Preakness Stakes (1930)
Belmont Stakes (1930)
Premi
2nd U.S. Triple Crown Champion
Informal U.S. Champion 3-Yr-Old Colt (1930)
Informal United States Horse of the Year (1930)
Onori
National Museum of Racing and Hall of Fame (1957)
#28 – Top 100 U.S. Racehorses of the 20th Century
Gallant Fox Handicap at Aqueduct Racetrack
Gallant Fox Lane in Bowie, Maryland
 Pedigree di Gallant Fox
Sir Gallahad III
Teddy
Ajax
Rondeau
Plucky Liege
Spearmint
Concertina
Marguerite
Celt
Commando
Maid Of Erin
Fair Ray
Radium
Searph
Kentucky Derby 1930